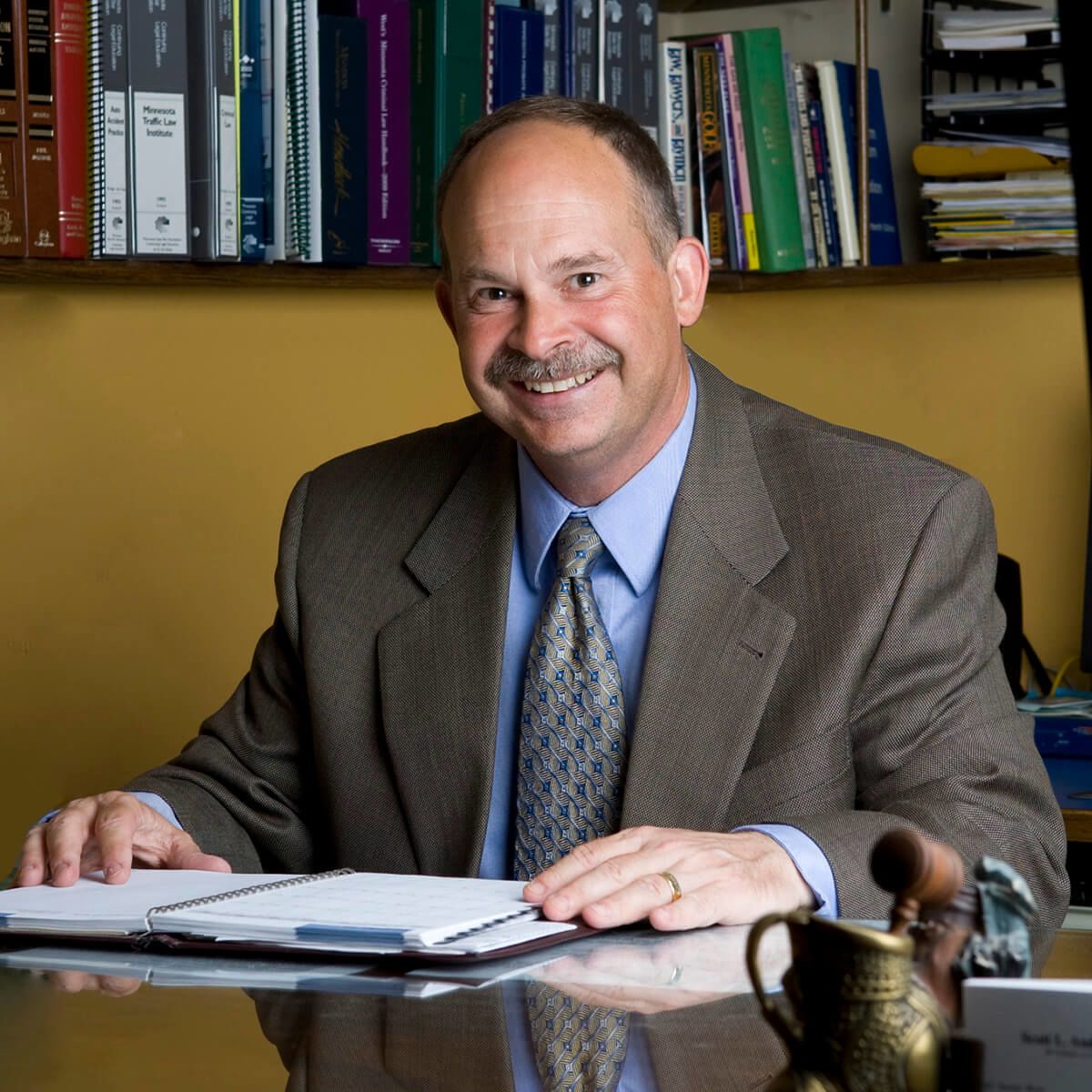 Scott L. Anderson
Attorney at Law
Scott L. Anderson graduated from the University of Minnesota in 1982. He received his law degree in 1986 from William Mitchell College of Law in St. Paul. Scott and his wife, Mary, were married on March 26, 1988. He has two children, Jenna and Brett.
During law school, Scott worked at an insurance defense firm and private law firm in Minneapolis. He gained a tremendous amount of knowledge regarding criminal law through this experience. After law school, Scott started his own law practice. He has successfully represented over 3,000 DUI cases and over 10,000 personal injury and criminal cases for over 30 years. Scott is an avid golfer, hiking, and bicycling enthusiast.
Scott Has Achieved the Highest Rating an Attorney Can Receive.
Scott is AV rated, the highest rating an attorney can receive from the preeminent national rating organization, Martindale Hubbell. He is a member of the Minnesota State Bar Association and Anoka County Bar Association. Scott has mentored many prospective lawyers and associates with many attorneys pertaining to legal questions where his experience can be to their benefit. Scott has volunteered for less fortunate persons and donated hundreds of hours for many years.
Scott Treats His Clients Like People, Not Dollar Signs.
Scott is compassionate, personable, and has a wealth of experience in achieving the best results for his clients. Scott treats his clients as people, not just dollar signs. Every client is treated with the respect that they deserve. Scott L. Anderson offers a free phone consultation for all case reviews.
Scott Provides Strong, Aggressive Representation and Personalized Attention.
Anderson Law Office offers its clients the best of both worlds: Strong, aggressive representation along with the personalized attention, responsiveness, and concern that their case deserves. Scott L. Anderson strives to provide the highest quality legal representation while recognizing the need for a practical approach to litigation. When a just resolution is not feasible or contrary to the interests of the clients, he is prepared to aggressively defend cases through trial.
Mr. Anderson Has Developed Many Valuable Relationships with Judges & Prosecutors
Scott L. Anderson understands how to work within the justice system and use its rules and procedures for your best advantage. He will not hesitate to proceed to a jury trial when it is in your best interest. He is the best person to get you the result you deserve. He understands how relationships dictate the ability to reach timely and successful resolutions. Through his years of experience, Mr. Anderson has developed many valuable relationships with judges, attorneys, clients, and insurance companies. Let his experience and knowledge work for you.
Scott is familiar with all of the judges and prosecutors in the seven-county metro area. He uses this familiarity to get the best result for his clients. With an office in Brooklyn Park, attorney Scott Anderson represents clients throughout the Twin Cities, including Minneapolis, St. Paul, Maple Grove, Brooklyn Park, Brooklyn Center, Champlin, Anoka, Coon Rapids, and Blaine and many other metro area cities. His practice is limited to criminal defense, with a focus on DUI defense and auto accident claims and personal injury cases.
Education
B.A. — University of Minnesota, 1982

J.D. — Mitchell Hamline School of Law, 1986
Bar Admissions